Take the quiz:
"WHAT'>http://www.zenhex.com/quiz.php?id=1257">"WHAT
RELIGION BESTS SUITS YOU?"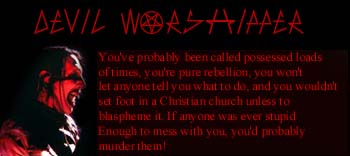 Devil Worshipper
You've probably been called possessed loads of times, you're pure rebellion, you won't let anyone tell you what to do, and you wouldn't set foot in a Christian church unless to blaspheme it. If anyone was ever stupid Enough to mess with you, you'd probably murder them!